You've seen the future, and it's touchless.
From phones and computers to televisions, door knobs, and now faucets-everywhere you look there are touchless interfaces
. And you may be asking yourself if you can convert your old faucet into a touchless one.
Touchless faucets are hip and cool, but they're also more expensive than regular ones. If you don't want to spend a lot on a brand-new touchless faucet or you don't want to replace your old reliable faucet right now but you would love to have the upgraded features of a touchless one, here is a guide on how to make your faucet touchless.
Touchless technology not only makes life easier but also reduces water consumption. We will show you how to convert your ordinary faucet into a touchless one. Don't worry you won't need to disassemble your tap or be a professional plumber.
Fortunately
, there is a little device called a touchless faucet adapter. All you have to do is attach it to your spout faucet to
benefit from
hands-free activation.
By installing this device on your spout faucet, you will be able to activate it without having to touch anything
.
In other words, you won't have to worry about touching the faucet with dirty hands or leaving the water running while cleaning the house
. You can even use it while brushing your teeth!
Touchless faucet adapters: how do they work?
Touchless faucet adapters are a great way to save water and money. These devices use an infrared sensor to detect movement, so you don't have to run water
manually
. The adapter
is powered by
batteries and can
be installed
on any standard faucet.
Once mounted, you can run your hands (or whatever you are washing or filling) under the faucet and the water comes on
automatically
.
If you want more control over how much water you use, you can also override the automatic feature
manually
.
It's a convenient way to conserve water while using your favorite faucet in the kitchen or bathroom
.
Touchless faucet adapters - Top Picks
There are several types of touchless faucet adapters available in the market today and all of them work pretty much the same way. The only difference between them is their price tag and size. You can choose from available options like:
This is a great product for those who are looking for a simple way to save water and keep germs away from their kitchen sink
.
This product has a sensor that works with the faucet adapter and will turn off when you need to wash your hands or turn on the water
.
The iTouchless brand
is known
for being the best touchless trash can but also for its automatic faucet adapter
.
This device makes your existing kitchen or bathroom faucet in a hands-free fixture so that you don't have to touch it every time you use it
. It can save up to 70% more water while washing your hands, cooking, or cleaning the house.
Also prevents cross-contamination with germs eliminating the need to touch the handle every time you use the faucet
.
Equipped with an infrared sensor and powered by 4AA batteries that can hold up to 2 years this faucet adapter delivers hands-free convenience
.
It fits standard faucet sizes.
Simply
remove the faucet aerator and screw the faucet adapter in place.
This touchless faucet adapter features two sets of sensing areas. By waving your hand in front of it, you can make it run for three minutes.
Simply
put your hand in front of it again to turn it off.
Put your hands underneath the bottom sensor and the water begins to flow removing them and the water stops
.
Its size is quite small and it won't take up a lot of space beneath the spout area.
The touchless faucet adapter gets its power from a contained lithium battery that can
be charged by
a USB type cable
. The average battery life is about 6 months and it only needs 3 hours of charge.
This device comes also with 6 sets of connectors to fit major American standard faucet threads and is very easy to install
.
The Techo touchless faucet adapter will transform your current faucet into a smart device with touchless control
.
In addition
to detecting your hands, kitchen supplies, and even your pets, it
is equipped
with power sensors so you can turn on and off the water with a single movement
.
It will also be useful if you have kids or pets in the house because it will
automatically
turn on when they get close to the sink
.
The Techo touchless faucet adapter saves 65% more water than traditional faucets.
Other pretty neat features
are led
night led that illuminates the spout in the dark and adjustable sensor range
.
This product comes with a lithium battery so you don't have to worry about charging it or replacing it after a while
. It can last for at least 8 months with
just
one charge.
There are also 6 types of connectors to fit the touchless adapter to almost any type of faucet. The installation is simple and you don't need any plumbing knowledge at all!
If you need to upgrade your old faucet with touchless convenience but also have in mind a graceful and stylish design this touchless faucet adapter is the best choice
.
Its design is unique and the chrome-plated finish gives it a modern look.
The Rocaso touchless sensor adapter features dual sensor mode. The bottom sensor
is used
for the instant mode the water runs only when it senses your hands beneath.
The side sensor
is designed
for continuous mode, it's activated by the wave of your hand and stops
automatically
after 3 minutes
.
An LED flashing light indicates when the battery needs to
be replaced
. This device requires only 3 AAA batteries to power. Installing the device is quick and easy.
The YICI Intelligent Touchless Faucet Adapter turns your faucet into an intelligent touchless sensor faucet
.
We love its design it is a compact little device plated in chrome finish. Once installed you won't even notice attached to your faucet's spout.
It features dual sensing mode: the bottom sensor delivers water
instantly
and the front-facing one
is used
for longer tasks like washing dishes or cooking and it gets activated by the wave of your hand
.
It has an integrated lithium battery that can last up to o 9 months on a single charge.
There's no need for
additional
tools to install it.
And to
eliminate
the compatibility issues the touchless faucet adapter features 6 different connectors to match major standard thread faucets
.
What are the steps for installing a touchless faucet adapter?
The installation process of a touchless faucet adapter is quite simple and can
be done by
anyone without special skills in plumbing
.
All you have to know is how to remove the faucet aerator( we made a detailed guide that should check it out) and what types of faucets are compatible with your touchless faucet adapter
.
Generally, these adapters are only compatible with most US standard thread faucets.
There are also connectors to match them with your faucet's common internal and external threads
.
They won't fit with: faucets without aerators, low spout faucets, pull-down and pull-out faucets with sprayers, and shower faucets
.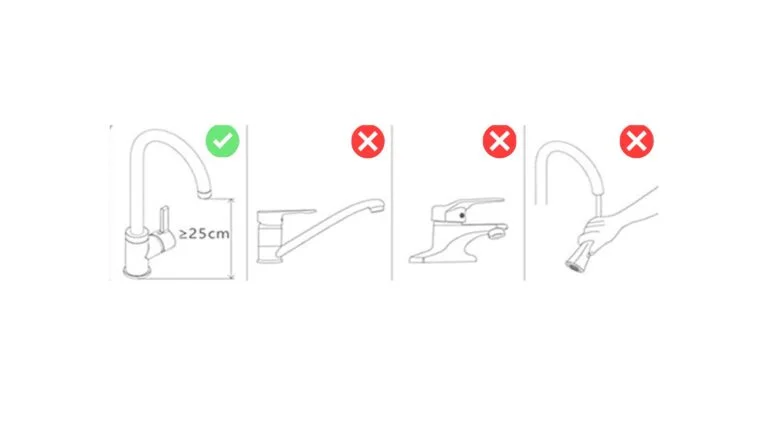 The most important thing is to make sure that both your faucet and adapter are compatible before installing it on your sink. Otherwise, it could damage your faucet or even cause leaks. Here are the steps. you should follow:
Step 1: Remove the faucet aerator.
Step 2: Install the touchless faucet adapter connector to the faucet spout. Use the provided gasket to prevent leaks.
Step 3: Attach the adapter to the faucet's spout.
Step 4: Open the faucet handle and test your newly installed touchless adapter.
The Pros and Cons of a touchless faucet adapter
These adapters are simple and cheap solutions to turn your old faucet into a touchless one. In fact, we should evaluate if this sort of device makes sense to install in our kitchen or bathroom faucets
Easy to install, no plumbing skills needed

Conserve water and lower utility bills

Eliminating the need to touch the faucet prevents cross-contamination

Children and also people with limited mobility can

easily

use it

You can convert your sink faucet into a freshwater fountain for your pets

Compared to a touchless faucet, it is less expensive
It does not fit with every type of faucet, especially those with pull-down sprayers

It lacks the advanced features of a touchless faucet

It is likely that some of them won't look

aesthetically

pleasing on your faucet spout due to their bulky design

The batteries will need to

be replaced

every few months or recharged
Overall, these adapters are a good and affordable alternative to turn your old faucet into a touchless one. If it works with your kitchen or bathroom faucet and you don't mind charging the batteries after few months of using, then go for it.